Loutraki
On the Road to Perachora
| | |
| --- | --- |
| | |
| | |
| | |
| | |
| | |
| | Nunnery of Hosios Patapios |
Perachora
Pisia
SCHINOS (ancient oenoe)
Nunnery of
Hosios Patapios
At a distance of 14 km from Loutraki, along the road to Perachora, on an imposing site and at an altitude of some 700 m., on a spur of the Geraneia mountains and above the calm waters of the Gulf of Corinth, stands the nunnery of Hosios Patapios. The interior of the nunnery is reached by a spiral flight of 144 steps; amid the pine-trees on the right, stands the chapel of the Hosia Mary of Egypt.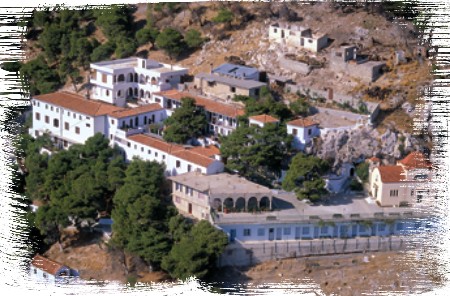 The nunnery was built in 1952 by Prokopios, Metropolitan Bishop of Corinth, and dedicated to Hosios ('the Blessed') Patapios. Patapios was born in the fourth or fifth century at Thebes in Egypt and spent much of his life as an ascetic in the desert. Later, he visited Vlachernae in Constantinople, where he dedicated himself utterly to God, work for many miracles and help to his fellow men. He died at a great age and was buried in the church of St John the Baptist in Constantinople. From there, his relic was brought to the Geraneia mountains by other ascetics and sealed in a cave.

In 1904, the relic came to light when the cave was opened. The saint's body had been placed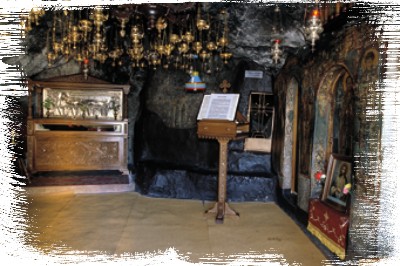 beneath tiles, to protect it from the damp, and it exuded a sweet odour. On the relic was a scroll giving Patapios's name, with a wooden cross and some Byzantine coins. The cave of Hosios Patapios, measuring 8 ÷ 4.5 meters, is to the northwest of the catholicon of the nunnery, and it has a sanctuary and sacristy hewn out of the rock. The holy relic itself is in a special wooden structure at the back of the cave, on the left.

Inside the cave there are also Byzantine wall paintings of the thirteenth century, notably three full-length figures: those of Hosios Patapios, St Hypomone (the name means 'Patience'), and Hosios Nicon. There are also excellent wall paintings in the modern church of the Dormition of Our Lady. Some forty nuns now live in the cells of the foundation.