2500 years of History & Culture
The History Of Loutraki
The land of Peraea
The Heraion of Perachora
The Vouliagmeni lagoon
Mycenean tombs at Skaloma
The Roman villa -
The medicinal baths of Loutraki
The Alcyonides islets
The Diolkos and the Corinth Canal
The Isthmian Walls
The Sanctuary of Poseidon
The Isthmian Games
Ancient Corinth
Mycenae

Epidauru

s
In an idyllic wooded area in the hinterland of Epidauria, the people of Epidaurus founded a sanctuary of Asklepios, which grew to become the most important medical centre of the ancient world. The cult of Asklepios, who was believed to be responsible for the curing of diseases, spread to this part of the Peloponnese in the sixth century BC, and the God was honoured in great splendour. His sanctuary at Epidaurus developed into the most important centre of healing, and many superb buildings were erected there. The sanctuary functioned for á thousand years and it was at the peak of its fame during the Classical and Hellenistic periods.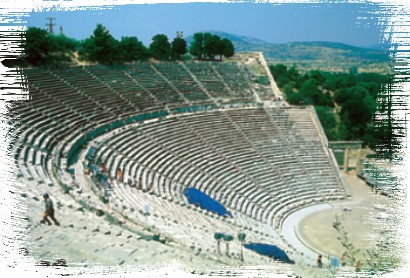 In the archaeological site, there are ruins of many magnificent buildings to see: the Roman Odeon, the stadium and the hippodrome (of the fifth century BC), the temple of Artemis (300 BC), the striking building called the Tholos (360-320 BC), the Doric temple of Asklepios with its interesting sculptures (380-375 BC), the Abaton or Encoemeterion where the sick were treated (fourth century BC), the temple of Themis (fourth century BC) and the propylaea (monumental entrance) to the sanctuary. Of course, the most important monument of á11 is the famous theatre, which is still used for performances in the summer months. It dates from the late fourth or early third century BC, and even in antiquity was renowned for its harmonious proportions and its unique acoustics. The interesting findings from the sanctuary can be seen in the National Archaeological Museum in Athens and in the museum inside the archaeological site.